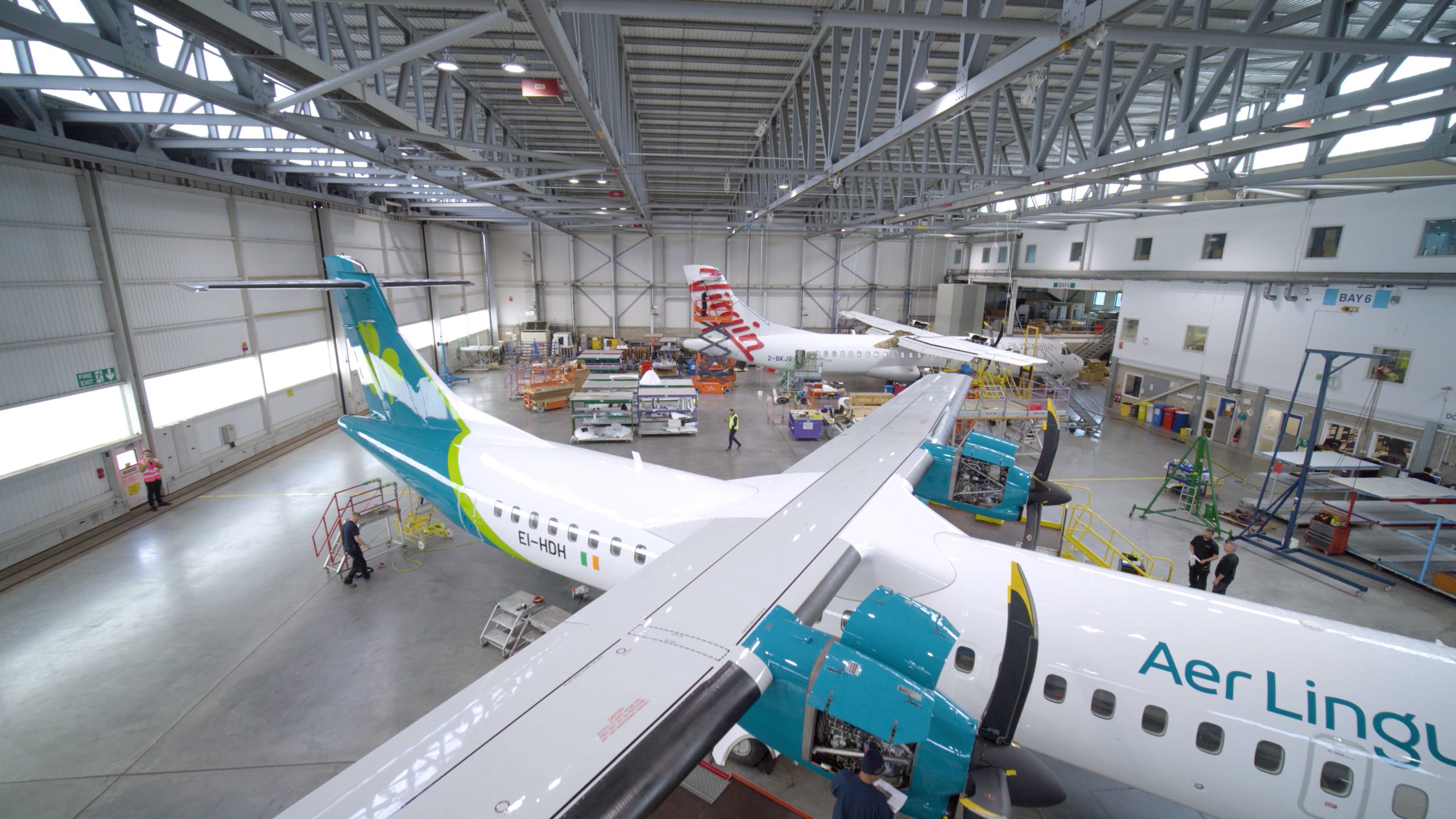 Local Skills and Experience Critical to Growth at Exeter Aerospace: Dublin Aerospace Group, the parent company to Dublin Aerospace and Exeter Aerospace, is one of the world's leading providers of aerospace Maintenance, Repair, and Overhaul (MRO) services. The MRO has capabilities in Auxiliary Power Unit (APU) Repair & Overhaul, Base Maintenance, Integrated Drive Generator (IDG) Repair & Overhaul, and Landing Gear Repair & Overhaul.
Specifically, Exeter Aerospace offers Base Maintenance services across 6 hangar bays on the ATR, DHC-8, and Embraer ERJ families. Dublin Aerospace employs over 400, with 94 based in Exeter.
The available hangars at Exeter Airport provided an ideal facility for Dublin Aerospace's business expansion. The presence of a skilled labour force, enriched by the experience and talent inherited from Flybe's historical operations, played a key role in getting Exeter Aerospace's operations up and running.
The availability of a skilled labour force based in the local area plays a vital role in the business, enabling Exeter Aerospace to conduct MRO services at Exeter Airport – a crucial aspect as aircraft require significant maintenance every 1-2 years. There are very few companies that have the necessary expertise and approvals from the Civil Aviation Authority (CAA) in the UK and the European Aviation Safety Agency (EASA) in Europe.
Brexit has proven advantageous for Exeter Aerospace's business since operators now prefer keeping their aircraft in the UK to simplify customs procedures and parts imports.
Their customer base includes prominent flight operators such as BA CityFlyer, Blue Islands, Aurigny, Eastern Airways, and Emerald Airlines. Additionally, leasing companies from Ireland, the UK, the USA, and Sweden contribute to their expanding international roster of clients, drawn by the skills and expertise of the local workforce in East Devon.
Will Campbell, Managing Director of Exeter Aerospace, stated: "Our workload has increased from 80,000 hours to 130,000 hours this year, and there is potential for our facility to handle up to 350,000 hours of work if we expand our team of engineers. We are achieving this by training apprentices at Exeter College's Future Skills Centre, which holds the necessary approval from the CAA to license and certify the engineers. Exeter College and the Future Skills Centre play a pivotal role in our future expansion."