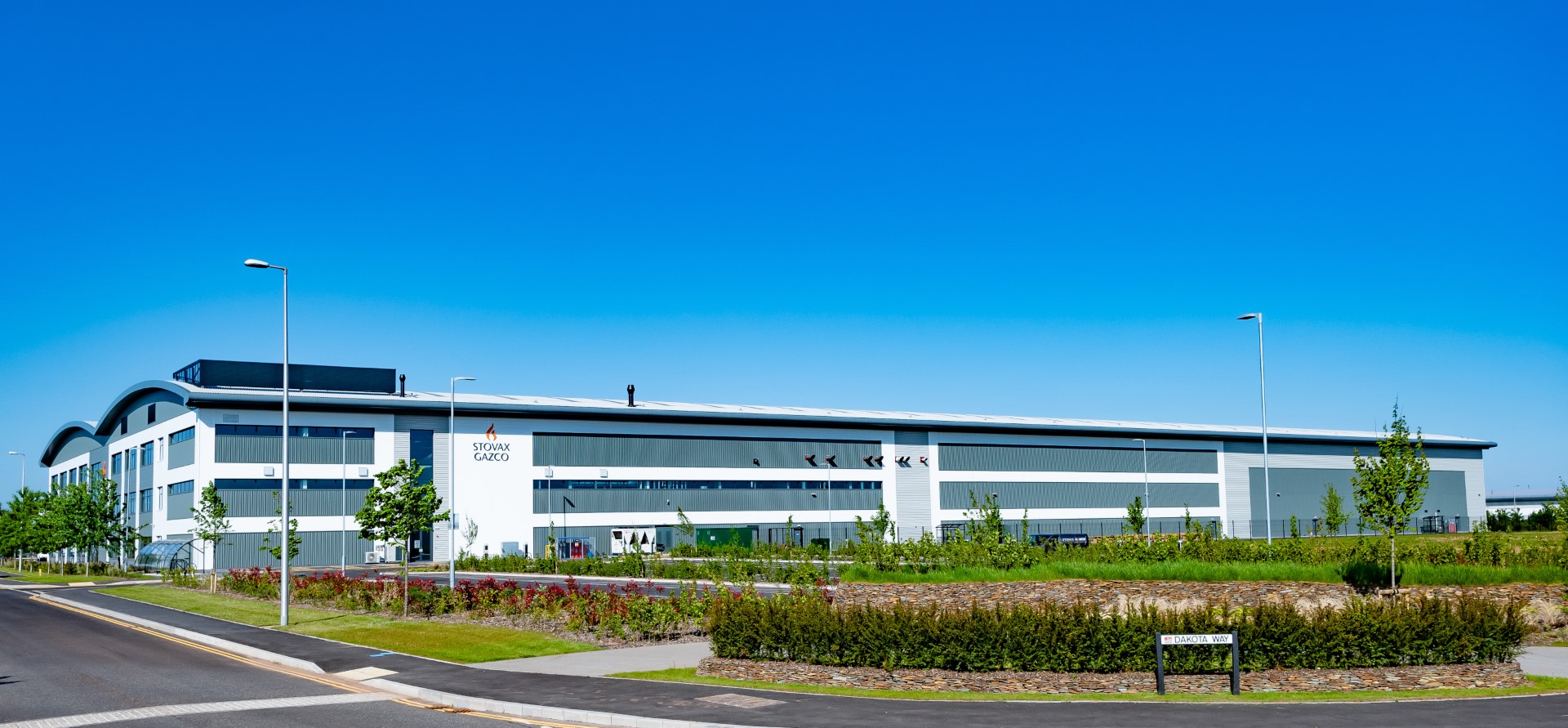 Established in 1981, the Stovax Heating Group is a renowned manufacturer of stoves and fireplaces. The brand excels in designing and manufacturing outstanding stoves, fires, and fireplaces, shipping their products to over 25 countries globally. As a part of the NIBE Group, they have a vast collection of woodburning, multi-fuel, gas, and electric products – the result of over four decades of expert craftsmanship and groundbreaking innovation. The brand epitomises superior British fire design and engineering. Their future-focused strategy guarantees a portfolio of products that are built to last.
The new facility at Skypark has been purpose built to afford Stovax & Gazco the right space to continue to develop their diverse and leading range of high-quality woodburning, multi-fuel, gas, and electric stoves and fires.
By incorporating the latest technology, insulation, and heat recovery and cooling systems, the company has been able to both significantly reduce their commercial energy usage and impact on the environment, as well as drive the continued development of a portfolio of efficient stoves and fires that serve tomorrow's eco-conscious customer.
The new home at Skypark's facility offers better working conditions for the valued people within it. Caroline Carr, HR Director commented: "At Stovax & Gazco, we are committed to becoming an employer of choice in the local area. We believe that our employees are our most valuable asset, and we strive to create a welcoming environment that encourages personal development and rewards hard work. Our goal is to attract and retain top talent in the industry, and we are proud to say that many of our employees have been with us for years."
Gerteric Lindquist, CEO of NIBE Industrier said: "Seeing this building has cemented the knowledge that we are well positioned for our future. The new facility is a direct reflection of how the Stovax Heating Group embody all the values that NIBE seeks to represent – we are delighted with the result, and look forward to continuing the story ahead."
The company is proud to have a positive impact on the local community by providing stable jobs and contributing to the local economy through their focus on south-west manufacturing and innovation. Their Skypark facility paves the way for new opportunities, and an exciting, bright future in the heart of the South West.
With commitments to decarbonisation top of mind, the Group's long-term goals are to obtain part funding to build their own Hydrogen development and test facility in these new headquarters. Taking the first important step, their £900,000 investment into a new paint plant features cutting-edge Hydrogen-ready ovens, opening up possibilities for the use of an environmentally friendly fuel type for production.
The Group has been working with Hydrogen South West as a member, alongside the SWBC (South West Business Council) to look at possible avenues to fund the further development of Hydrogen appliances. They have taken an active part in future village and town trials, which they hope will utilise their very own Hydrogen decorative gas fires – developed for exploration into decarbonising the domestic gas grid.
Already offering the UK's largest range of Ecodesign stoves and fires, the Stovax Heating Group's new headquarters allows them the right location to support their commitment to backing the drive for improved air quality – including ongoing investment into the latest heating technology for a collection of stoves and fires that keep emissions to an absolute minimum.
Following the Grand Opening of the facility, Ian Kingscott, Group Technical Director, said: "The new building marks a huge milestone for us, and this facility sets the stage for our continued growth and innovation. We are excited about the opportunities ahead as we strive to deliver sustainable heating solutions and contribute to a greener future."