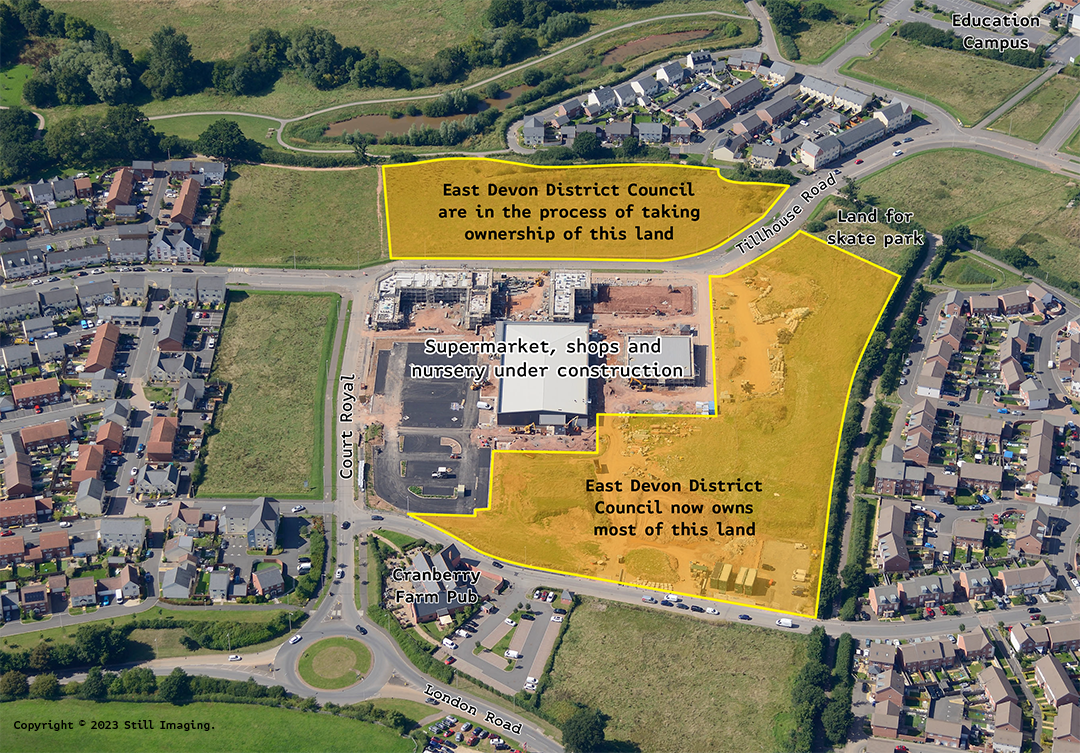 Local people can share ideas on how Cranbrook's new town centre should look.
Answer a short survey at eastdevon.gov.uk/cranbrook-town-centre before 10th November 2023 and you could be in with a chance of winning a £50 voucher.
Councillor Paul Arnott, Leader of East Devon District Council and Chair of the Exeter and East Devon Enterprise Zone, said:
"This is an important opportunity to help shape the future of Cranbrook. Your ideas really matter. We want to hear from as many people as possible – especially young people and people who don't normally get involved.
"Legal agreements are being put in place which mean developers will contribute millions of pounds towards facilities and spaces in the town centre, like a library and leisure centre.
"We want your ideas to help decide what else should be included, what should be built first and where it should be built. Your views and ideas will then be used by EDDC and partners to create a long-term town centre masterplan in summer 2024."
If you would like to discuss ideas in more detail, please come along to the drop-in sessions. The first one takes place at the free Family Fun Day on 24th October, 10.30am – 1.30pm at Cranbrook's Younghayes Centre, where there will be refreshments and children can have fun on a bouncy castle or get creative in THG's Creative Cabin . You can share your ideas on 9th November from 4-7pm at the Younghayes Centre or on 16th November at the Cranberry Farm pub from 6-8pm. 
These websites will also highlight events and other ways to get involved:
Cranbrook town centre is one of the sites in Exeter and East Devon Enterprise Zone. The first shops, the beginning of a town square and a Morrisons supermarket are being built and should be finished in Spring 2024. East Devon District Council (EDDC) has bought 3.85 acres of land next to the supermarket and will receive more from the developers shortly. This will make it easier to agree what happens next and start the next phase of the town centre.
There is a lot of work to do before more facilities are built in the town centre. When the consultation closes, the responses will be analysed and the information used to help draw up a town centre masterplan. The masterplan will show how the town centre will be laid out and what kind of place it will be. There are already commitments from Devon County Council to build a youth centre, children's centre and library. Cranbrook Town Council is aiming to develop a community building which will also house the town council offices. A leisure centre is included in the EDDC Leisure Strategy and there are plans for a Health and Wellbeing Hub and a Fire Station. More needs to be done to finalise how each of these buildings will happen. In challenging financial times, this includes finding the full amount of money to build them as developers will not fully fund everything. EDDC is committed to working with its partners to realise the ambitions for a 21st century town centre for Cranbrook that meets the needs of the people who live, work and visit it.