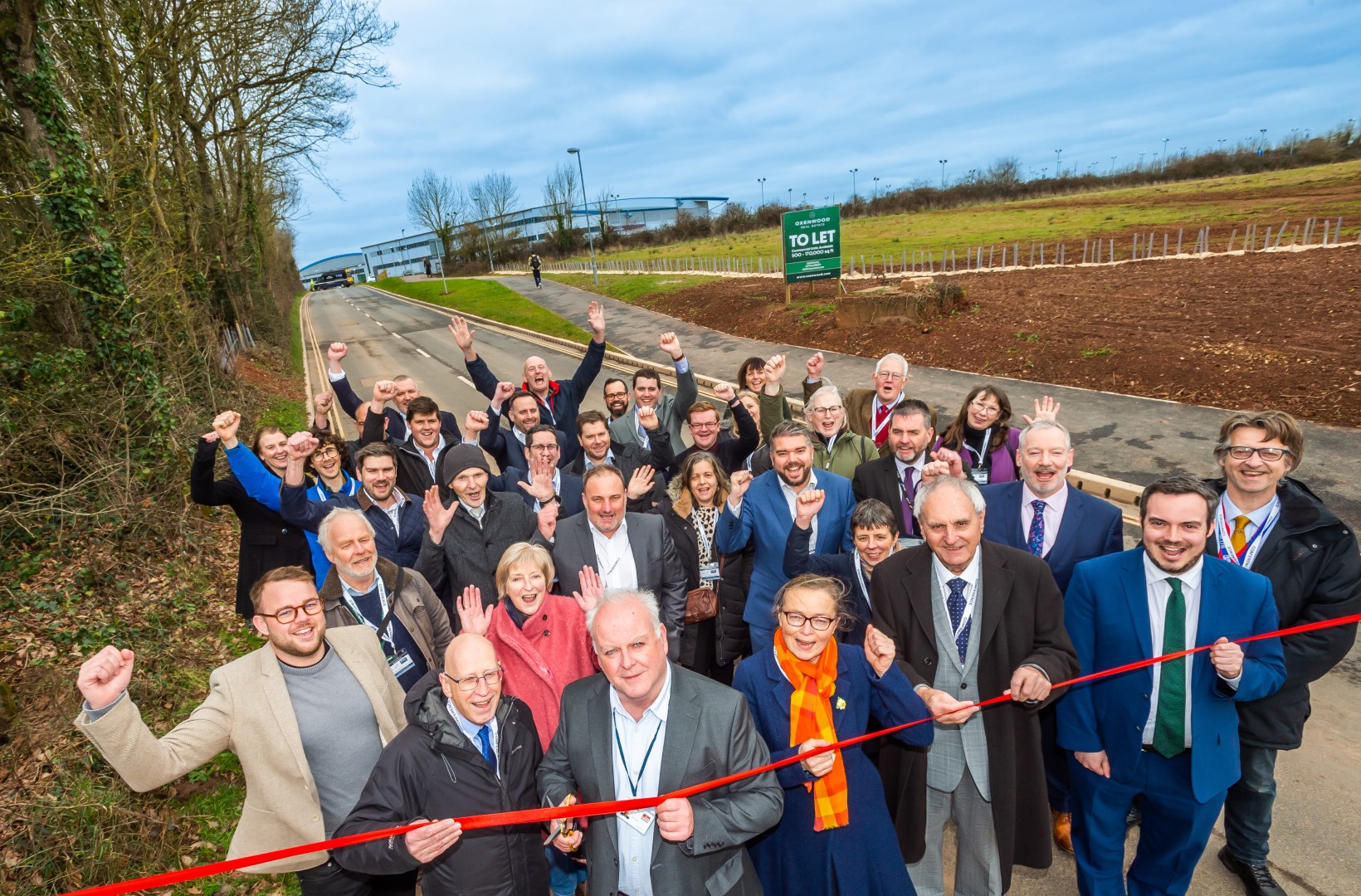 The £4.5m road enhancement scheme has been under construction for the past two years and was completed on 23rd February 2023.
The new access will help to boost East Devon's economy, through provision of new jobs and opportunities for clean and inclusive growth. The enhancements to Long Lane unlock development of the new 19 acre Power Park site part of the Exeter and East Devon Enterprise Zone and is expected to create around 1,000 jobs.
The scheme facilitates a new bus loop and improved provision for pedestrian and cyclists, substantially improving access to Exeter College's Future Skills Centre and Exeter Aerospace maintenance hangars. The scheme improves access to Exeter Airport, a major gateway to the region, and will also help to enable the construction of the forthcoming France-Aldernay-Britain interconnector project.
Councillor Paul Arnott, Leader of East Devon District Council, said:
"I'm delighted to see completion of this important work which will help bring forward a new site and new jobs to our Enterprise Zone. The focus on sustainable transport with improved pedestrian, cycling and bus links all contribute to our clean growth vision for the area and helps us to meet our 2040 carbon neutral target to tackle climate change.
"It is fantastic news for local, young people who have better access to the Future Skills Centre, which in turn will improve the ability to access highly-skilled job opportunities."
Councillor Rufus Gilbert, Devon County Council Cabinet Member for Economic Recovery and Skills, said:
"This has been a truly collaborative effort involving a wide range of partners to deliver such a transformational road scheme, which will be the catalyst for unlocking around 1,000 jobs at Power Park.
"The development of this infrastructure is a real boost for all modes of transport as it will deliver better walking and cycling links, as well as a 20 minute frequency bus service extending to the Future Skills Centre, Exeter Airport Business Park, the Hampton by Hilton hotel and the future business park."
Karl Tucker, Chair of the Heart of the South West LEP, said:
"Our area's Enterprise Zones are a key part of the ongoing work to create new and better paid jobs for the people who live here. So I am delighted that the Long Lane improvement is complete, which will help the Exeter and East Devon Enterprise Zone reach its full potential. It is a fantastic step in the area's clean growth journey."
John Laramy, Chief Executive, Exeter College, said:
"The improvements to Long Lane are nothing short of transformational for that area. The enhancement will improve access, transport links and opportunities, not just for College students & apprentices, but for businesses and stakeholders that use and benefit from the Future Skills Centre. I would like to thank all partners, for coming together to make this project a reality."
Stephen Wiltshire, Managing Director, Exeter Airport, said:
"This scheme is vital to supporting better connectivity to the Airport, helping to deliver growth and prosperity to the regional economy. An integrated network not only provides easier access and fast transit to and through the airport, but allows for existing and prospective airport-based businesses to develop their activities and facilities. Exeter Airport is a major employer, creating hundreds of local jobs and promotes skills and training opportunities. Adjacent to the Enterprise Zone, we welcome the completion of the scheme which also gives improved access to Exeter College's Future Skills Centre, a regional centre of excellence for aviation."
On 5 January 2022, East Devon District Council's Cabinet agreed to increase investment from £3.7m to £4.51m to enable the scheme to be completed, in the Exeter and East Devon Enterprise Zone. Link (Public Pack)Agenda Document for Cabinet, 05/01/2022 18:00 (eastdevon.gov.uk) All borrowing will be against future ring-fenced business rate income from the Enterprise Zone sites.
The Exeter and East Devon Enterprise Zone designation is helping to encourage and accelerate investment including;
Exeter Science Park was awarded £5m from the government's Getting Building Fund to support the delivery of the George Parker Bidder building, built to net zero carbon standards and supporting over 100 jobs. This was in addition to the development of the Ada Lovelace building.
Burrington Estates completed 35 commercial units on Skypark and Stovax has developed a new purpose built 200,000 sq ft facility there too
Work has started on the development of Cranbrook town centre including a new Morrisons supermarket